Spinform
"To hear is not to listen" is the first album outlet from Spinform aka Erik Möller, the one man orchestra from Uppsala, Sweden. Spinform has been and will always be in constant search for the music of the future. The Spinform world of sonics is a smooth blend of acoustic sounding sounds and electronic sounding sounds, a journey through spasmodic rubberball rhythms, undiscovered soundworlds and haunting harmonies.
Spinform's been around since 1994, but Erik Möller started making music in the late eighties when he was swept away by the new sounds of techno and house. Since then he's made music under many names, always evolving his take on experimental electronic music. Quick enough Erik got attention from diverse record labels, and got his songs released.
A couple of years ago he got in touch with the Recordings Under Construction imprint. Erik got along very well with the label, and some serious work eventually led to the release of the "Urban Legends EP" and thereafter the release of the debut album. Since Spinform always is heading into new uncharted territories, Erik has already locked himself inside the Audionaut Capsule and started to shape what will be his second album.
Releases
art 9023 0 / Spinform / Urban Legends EP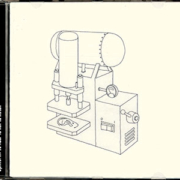 art 9023 2 / Spinform / To hear is not to listen
Comments on Spinform
– 8/5 (!), Tomas Knak, Future 3 / Danish national radio
– "damn, its a revolution going on!", Magazine Groove, Sweden
– "'To Hear Is Not To Listen' is one of the most satisfying releases my cd-player has had the pleasure of spinning", Pietro Da Sacco, Grooves Magazine (Canada)
– "These kind of tracks are timeless. A killerrecord" – De: Bug July 1999
– "Art, feeling and dancefloor come comes their equal rights [on this album]…Drum'n'bass for gourmets." – Orkus September 1999
Spinfo
1997 The "Massage" video is broadcasted on MTV Party Zone and Chill Out Zone
1998 "Massage" is licensed to compilation "Heart of Hip-Hop  Downtempo Science" from PIAS
1998 "Caught in the corporeal" on "Monolithic Minds 2" from the Monolithic label
1998 The "Urban Legends EP" was released on 12″ vinyl.
1998 Spinform track "Webs of resistance" is included on the "Sounds Like Inertia" compilation from UK label Inertia
1999 Spinform has a premix track on the Neotropic 12″ "Ultra Freaky Orange", released on Ninja Tune